Zerona laser treatment can help you lose up to 9.5 inches in two weeks with no surgery*
ZERONA: NON-INVASIVE BODY-SLIMMING LASER
At Bauman Medical since 2008…
Inch-Loss with Zero Downtime, Zero Pain, Zero Recovery…that's ZERONA!ZERONA may be new to some, but the FDA-cleared Zerona by Erchonia has been in use at Bauman Medical Group in Boca Raton, Florida since 2008.
Familiar with the use of low level laser therapy since 1999, phototherapy expert Dr. Alan Bauman was one of the first physicians in the country to acquire the Zerona from Erchonia. Using the patented ZERONA process, patients in an IRB-approved randomized placebo-controlled double-blind clinical trial were able to lose up to a total of 9.5 inches from their waist, hips and thighs (ave: 3.5 in.) in two weeks*! With Bauman Medical Group's Body-Contouring Program, our patients can now take advantage of ZERONA, a non-surgical breakthrough alternative to liposuction. The 100% painless process requires six 40-minute treatments performed over the course of two weeks. There is no pain, no swelling, no needles, no bruising and no recovery time.  Normal activity resumes immediately.
The most commonly treated areas are the lower abdomen (belly), flanks (love-handles), buttocks and thighs.   Other treatment areas can include the neck, arms, back and knees.
Every patient treated thus far with Zerona at Bauman Medica Group in Boca Raton Florida has lost inches. High demand for this long-awaited, non-invasive procedure has drastically reduced the number of treatment slots available. Call 1-877-561-LIPO toll free, 561-394-0024 or email Email Dr. Bauman today for more information or to schedule a consultation or check treatment time-slots.
Visit The ZERONA Network! Don't trust your Zerona treatments to just anyone. At Bauman Medical, we've got a track record of success since 2008 that shows our results outperform the clinical trial results!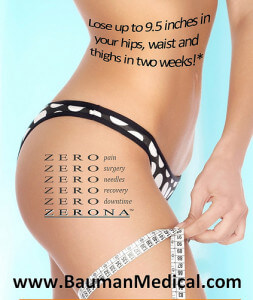 Why choose Bauman Medical Group for Zerona laser treatment?
Experience, Expertise, Results and Patient Care! Dr. Alan J. Bauman is a world-renowned expert in clinical phototherapy, having used laser therapy to help patients for over ten years. As one of the first practitioners in the country to use Zerona for body contouring and the first in South Florida, Dr. Bauman and his team have one of the longest and most successful track-records with the device. The results we presented at THE Aesthetic Show (Medical Conference) in Las Vegas in 2009 confirmed that our patients lose an 'above average' amount of inches when compared to the clinical trials. Our advice and the adjunctive treatments we recommend to our patients ensure that your results are maximized. Don't trust your Zerona treatments to just anyone, choose the experts! Bauman Medical Group in Boca Raton is the primary South Florida treatment location for Zerona!
Contact Bauman Medical Group today to see why our patients lose more inches with Zerona than other clinics. 561-394-0024 or Email Dr. Bauman

Dr. Bauman's Zerona Laser Melts Fat — ABC NEWS
Zerona & LipoLASER: History and Research
History of Zerona:
First used to facilitate liposuction procedures, the Zerona by Erchonia was noted to improve liposuction through a preoperative treatment which caused fat cells to 'leak' their fatty material into the surrounding area.   This liquefied fat was then removed using traditional surgical techniques.  Interestingly, the procedure was quicker and easier for the surgeon, safer for the patient (less bleeding), caused less bruising and was noted to have a quicker and more comfortable recovery.  It was postulated, however, that if the liquefied fat was left within the body, the body would reabsorb this material and excrete it–hence, non-surgical fat reduction and body-contouring was born.  Recently-completed and soon-to-be-published research confirms that patients can lose inches without invasive surgery through a series of ZERONA treatments.
MECHANISM OF ACTION:
A few years ago, rigorous research on fat cells and their response to Low-Level Laser Therapy was studied using MRI, CT scans, electron microscopy and ultrasound, eventually leading to the discovery of the disruption of fat cell membranes believed to be responsible for allowing the fat cell contents to leak out of the cell.Recently, the preliminary results of the Independent Review Board-approved, double-blind, randomized, placebo-controlled, multi-site clinical trial on Zerona were released at the American Society for Lasers in Medicine and Surgery Conference in April of 2008. The full results and details of the clinical trials are due to be presented by Dr. Alan Bauman at a Special Session of the16th Annual World Congress on Anti-Aging Medicine and Regenerative Biomedical Technologies this Winter in Las Vegas, Thursday December 11, 2008 at 4PM. The scientific articles, announcements and news stories below detail the history of Zerona from its beginnings in liposuction, the discovery of the laser's mechanism of action, and it's evolution into the breakthrough non-surgical fat-reduction treatment today. Dec 2009 – Zerona Body-Slimming clinical trial published in Lasers in Medicine and Surgerypeer-reviewed journal.
Apr 2009 – Zerona was featured nationally on The Doctors TV show.
Dec 2008 – Full clinical trial results presented at American Academy of Anti-Aging Medicine by Dr. Bauman.
Aug 2008 – Study of Low Level Laser Therapy for Body Contouring COMPLETED U.S. National Institutes of Health (NIH)
Nov 2008 – Zerona on ABC News, Miami
July 2008 – Zerona treatments begin at Bauman Medical Group, Boca Raton, Florida
Jun 2008 – American Society for Lasers in Medicine & Surgery Lecture
Apr 2008 – Erchonia Study Results of Zerona Clinical Trials Released
Sep 2004 – FDA clearance of Erchonia EML Laser for Liposuction
Mar 2004 – Study of Erchonia EML Laser for Liposuction: COMPLETED
Jan 2003 –  Dermatology Times by Dr. Butterwick describes fat liquification
Sep 2002 – Fat Liquifaction using Low Level Laser Therapy (Niera)
Sep 2002 – Fat Liquifaction using Low Level Laser Therapy — full article (Niera)
Oct 2000 – World Congress on Liposuction (Niera) 2000




Laser Proves Non-Invasive Alternative to Surgery
Zerona(TM) Laser Zaps Fat with Light not Liposuction
https://www.erchonia.com/default.asp?contentID=121




Do You Have a Question About Zerona??
Do you have a question about the procedure, scheduling or results from the treatments?
Dr. Bauman and his staff are here to provide you with the answers you need. For more information on Zerona, email Email Dr. Bauman
or call 1-561-394-0024 or 1-877-BAUMAN-9 toll-free.




Announcements
Zerona in South Florida at Bauman Medical Group – Friday, November 06, 2009
First Zerona outside of clinical trials arrives in Boca Raton, FL in July of 2008. Since 2008, Bauman Medical Group has treated many patients in South Florida. While every patient has achieved different results, every single patient has lost at least one inch over the course of the two-weeks of treatment (average 5-6 inches).   read more…