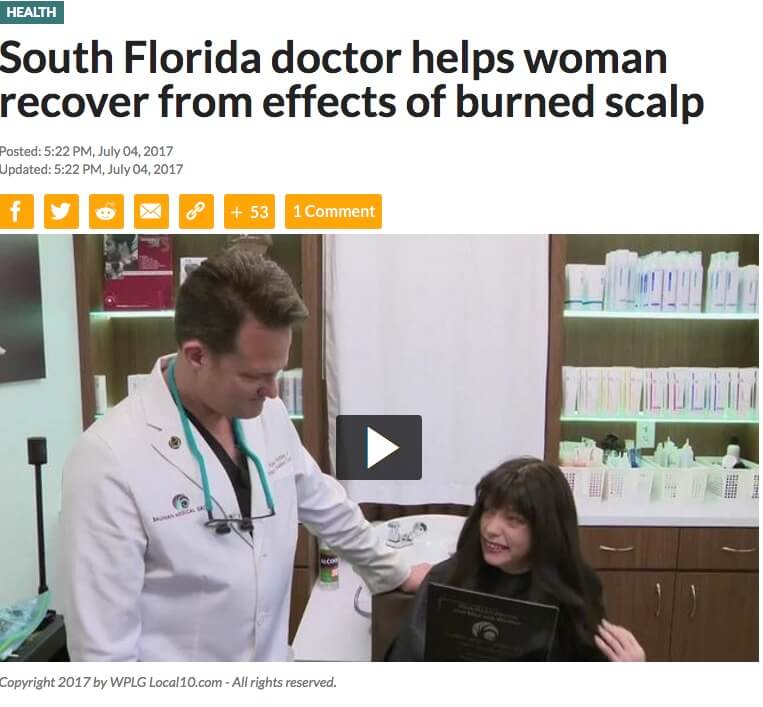 South Florida Doctor Helps Woman Recover From Burned Scalp
Recently, Misty's hair restoration story aired on WPLG Local10 News Miami in Florida.  Burned severely on her scalp during a kitchen fire as a child and after multiple surgeries to reconstruct the area, unfortunately, she is not a candidate for hair transplantation. However, more than 26 years later, the CNC Hair and Scalp Cranial Prosthesis made with 3D-Printed technology from Bologna, Italy and provided by Hair Restoration Physician, Alan J. Bauman, M.D. in Boca Raton, Florida, is the answer. After more than a quarter century without a full head of hair, Misty receives the Italian Hair System and is able to shower, shampoo, style, swim, etc. and enjoy an uncompromised lifestyle that a full head of hair brings. The cost of Misty's CNC Hair & Scalp Prosthetic was subsidized by the Bauman Philanthropic Foundation.  Learn more about CNC Cranial Prosthesis for Hair and Scalp at Bauman Medical in Florida.
The medical-grade CNC Hair & Scalp Cranial Prosthesis or Italian Hair Replacement System Misty received was provided by renowned board-certified Hair Restoration Physician, Dr. Alan J. Bauman, MD, ABHRS, Medical Director of Bauman Medical Group in Boca Raton, Florida and founder of the Bauman Philanthropic Foundation–a 501(c)(3) organization dedicated exclusively to providing hair restoration treatments and services to those in need.
More Than A Medical Wig
Much more than a "medical wig," the non-surgical dermato-compatible CNC Cranial Prosthesis has been approved as a medical device in Italy and is appropriate for certain male or female hair loss patients, including those who have scars or scarring alopecia, burns, or autoimmune hair loss due to inflammation (alopecia totalis and universalis) and even chemotherapy. It can also be used in place of traditional hair extensions, wigs and weaves when something more stable, non-itchy, non-removable and more "friendly" to hair and scalp is desired due to athletic or other activities. A portion of the cost of a cranial prosthesis or cranial prosthetic device is often covered by insurance.
If you or someone you know has suffered hair loss and might benefit from a Cranial Prosthesis or other Hair Restoration treatment or procedure, please visit www.BaumanMedical.com for more information on CNC hair restoration options and to start a long-distance or in-person consultation.
If you or someone you know has hair loss, hair thinning, baldness, or eyebrow / eyelash concerns, click to start either a long-distance virtual consultation OR an in-person, in-office consultation with Dr. Bauman. You can also Ask Dr. Bauman a Question or simply call Bauman Medical Group  at +1-561-394-0024.