Can Propecia® also regrow natural visible hair?
After six months, men may begin to experience regrowth*. In clinical studies, this was not just "peach fuzz," but real hair—and growth occurred on both the vertex (at the top of the head) and the anterior mid-scalp area. There is not sufficient evidence that Propecia® works for recession at the temporal areas. Generally, men will not be able to grow back all of the hair they have lost. If you stop taking Propecia®, you will likely lose any hair you have gained within 12 months of stopping treatment. If Propecia® does not work within 12 months, further treatment is unlikely to be of benefit.
Propecia is scientifically proven to stop hair loss in 5 out of 6 men.
It also regrows natural visible hair in 2 out of 3 men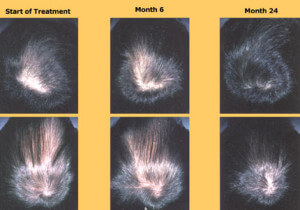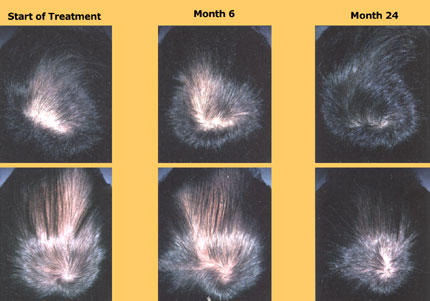 Does Propecia® have any side effects?
Like all prescription products, Propecia® may cause side effects. In clinical studies, a very small number of men experienced certain side effects, such as: less desire for sex, difficulty achieving an erection, or a decrease in the amount of semen. Each of these side effects occurred in less than 2% of men. These side effects were reversible and went away in men who stopped taking Propecia®. They also disappeared in most men (58%) who continued taking Propecia®.