Press Release: Top Hair Loss Expert, Dr. Alan J. Bauman, Kicked Off 'Season of Giving' by Lending Support to the Second Biennial 'Grow to Give' Hair Donation Event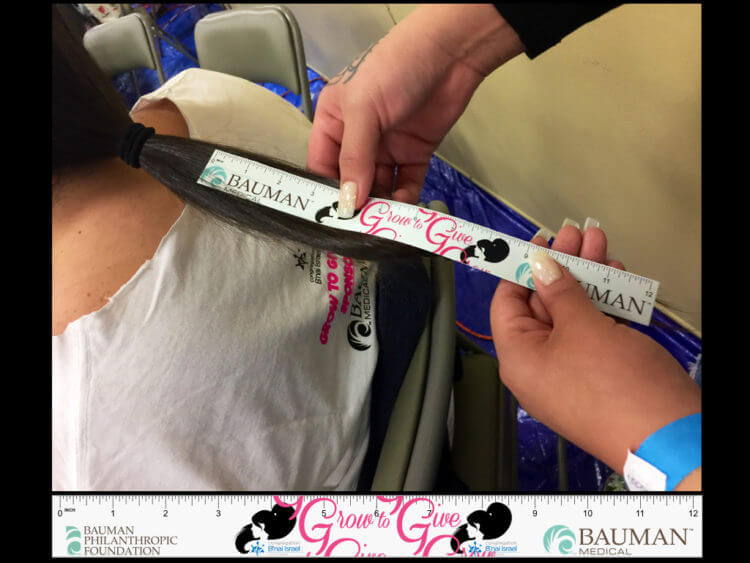 Top
Dr. Alan J. Bauman, a prominent hair restoration physician and founder of Bauman Medical in Boca Raton, was a VIP sponsor for this year's event through his 501(c)(3) non-profit organization, the Bauman Philanthropic Foundation. "For many cancer patients, hair loss is a painful reality—a trigger of intense emotions and a daily reminder of the health situation that often seems out of their control," he explained. "It was such an honor to be part of the 'Grow to Give'  event. It was a really special way to start the holiday season, by seeing the community come together for a great cause. Because of their generosity, we will be able to give so many patients a much needed boost, by helping them restore their hair both during and after treatment."
Dr. Bauman has a long history of award winning philanthropic involvement in the community, and often supports various charitable groups, organizations and events in the areas of education and healthcare in additional to local community initiatives.
Thanks to the support of local sponsors, each participant was treated to a special cut and style from one of the many hairstylists who volunteered their talents for the cause. "We wanted to really acknowledge what a special gift these donors were giving by treating them to a little pampering," explained Dr. Bauman. "Because what they were doing was so much more than just a haircut."
View photos from the event:
The event also was an opportunity to raise awareness on new cranial prosthetics, one of the most exciting  breakthroughs in hair restoration, which are proving to be an especially valuable tool for treating chemo induced hair loss. "These advanced hair replacement systems have the ability to dramatically improve the quality of life for men and women who are not candidates for transplantation and other medical treatments due to chemotherapy or other cancer treatments," asserted Dr. Bauman.
A leading product in the cranial prosthetic category, the CRLab CNC Cranial Prosthesis is a unique medical grade hair and scalp replacement system which uses 3D printing to perfectly design and conform the prosthetic or second skin to the patient's exact cranial measurements, skin type and other specifications.
To learn more about CNC hair and scalp cranial prosthesis as an option for cancer-related hair loss, visit
https://www.baumanmedical.com/3d-printed-hair . If you or someone you know is suffering from cancer-related hair loss, schedule a long-distance phone consultation or an in-person, in-office consultation with Dr. Bauman online at https://www.baumanmedical.com or by calling toll-free 844-GET-HAIR or +1-561-394-0024.
About the Bauman Philanthropic Foundation:
Continuing an almost twenty-year benevolent tradition of Bauman Medical, the Bauman Philanthropic Foundation 501(c)3 non-profit organization is dedicated to providing pro-bono hair restoration, surgical hair transplants and medical treatments to patients in need. The goal is to use resources to help restore the appearance of men, women and children who have suffered debilitating hair loss through accidents, medical treatments, or other unfortunate causes, so they may regain the confidence they've lost in often devastating circumstances. The foundation also supports charitable groups, organizations and events in the areas of education and healthcare in addition to local community initiatives.
About Dr. Alan J. Bauman:
Alan J. Bauman, M.D. is the founder and chief medical officer of Bauman Medical Hair Transplant and Treatment Center in Boca Raton, FL. At more than 11,000 square feet, his clinic is the world's largest standalone treatment center dedicated exclusively to hair loss. Dr. Bauman has been a full-time hair transplant surgeon since 1997, and has treated over 17,000 patients and performed over 7,000 hair transplant procedures. Dr. Bauman is one of approximately 100 physicians worldwide to achieve board certification from the esteemed American and International Board of Hair Restoration Surgery (ABHRS). He is a Fellow of the International Society of Hair Restoration Surgery (ISHRS), an accepted member of the International Alliance of Hair Restoration Surgeons (IAHRS), recommended by the American long-distance phone consultation OR an in-person, in-office consultation with Dr. Bauman. You can also Ask Dr. Bauman a Question or simply call Bauman Medical Group toll-free 844-GET-HAIR or +1-561-394-0024