December 25, 2012 – Read "Hair: A gift that keeps giving" newspaper article in The Palm Beach Post featuring Dr Bauman.
"Hair: A gift that keeps giving" – Noninvasive therapy restores thinning scalp By Steve Dorfman
Christmas came early for me this year. It was delivered — ever so gradually — in the form of a gift I'd spent most of my life taking for granted: a head full of thick, healthy hair. (Would that make it a "re-gift"? But I digress…) Regular readers might recall that, back in May, I embarked on anon-invasive, hair-restoration treatment protocol. In the past few years, age — and a blood disorder that left me, among other things, severely anemic — had wreaked havoc on my hairline. Dr. Alan Bauman (baumanmedical.com), a nationally recognized hair-restoration specialist based in Boca Raton, offered to provide for me, pro bono, a program consisting of the following:
Specially compounded Formula 82M Minoxidil (applied topically, twice daily);
Twice daily hair-growth vitamin supplements (ViviscalPro and Appearex Biotin);
Low level laser light therapy (at home, I wore a device called a LaserCap for 30 minutes, thrice-weekly).

Steve Dorfman, seen pre-treatment and after 3-months and 6-months of a non-invasive multi-therapy hair restoration regimen prescribed by Dr. Alan Bauman
My goals were modest. Primarily, I wanted to revive the wispy, "dead-looking" hair in the front middle region. This was the area I surmised had been most damaged by the prolonged —and that mocked me every time I caught sight of myself in a mirror. Any additional improvement in hair growth, quality or volume (all of which Dr. Bauman can objectively quantify and measure) would be the proverbial "gravy." Dr. Bauman gently warned me that, in his nearly 20-plus years of experience, the biggest obstacle to the success of any hair-restoration program was usually patient compliance. That is, people tended not to be diligent about performing the daily duties necessary to produce results. Well, clearly, Dr. B. had no idea with whom he was dealing. As all too many former girlfriends — not to mention my poor ex-wife — can attest, if there's anything I can do, it's follow a daily ritual. Or dozens (hundreds?) of daily rituals. I'd simply add the three minor at-home tasks to my copious mental checklist. Of course, for the first month or two, I felt as if I was wasting my time. Yes, Dr. Bauman had cautioned me that meaningful results could be a long time in the offing —perhaps as much as six months. Still, there didn't appear to be any discernible difference in my hairline — especially that troublesome spot in the middle of my forehead. With each fingertip application of the 82M Minoxidil, and ingestion of supplements, I would mentally compose the sad-sack column I'd eventually have to write about how the treatment was unsuccessful. Then, one morning, perhaps eight weeks into the routine, my hairline looked just the tiniest bit fuller than I had recalled. My first instinct: that I was imagining it … that I was simply hoping for it to look different.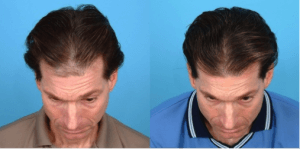 BEFORE & AFTER 6 MONTHS Steve Dorfman used compounded Formula 82M minoxidil twice a day, LaserCap for thirty minutes every other day and a series of professional nutritional products.
Indeed, the initial resuscitation of those spindly front follicles was so gradual, so deliberate, that it was virtually imperceptible. But then, the restoration process began developing momentum. From the fourth month on, even family, friends and colleagues noticed the difference. By the time I underwent my six-month progress evaluation a few weeks ago, the objective evidence was indisputable: Every measurable metric (length, quality, volume) had increased anywhere from 25 to 50 percent, depending on the region being examined. So, as far as I'm concerned, forget the idea of simply having a "good hair day." Thanks to my non-invasive restoration protocol, I've had a "great hair year!"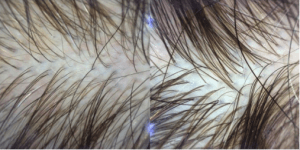 "Before and After" HairCam™ evaluations using a 60x scalp microscope (above) and scientific HairCheck™ measurements quantified the results of the regrowth regimen.
About Dr. Alan J. Bauman
Alan J. Bauman, MD, ABHRS, IAHRS, FISHRS is a full-time hair transplant surgeon who founded his medical practice in 1997 and has treated nearly 20,000 patients and performed over 8,000 hair transplant surgeries and nearly 3,000 PRP for hair regrowth procedures to date. His compassionate, patient-centered philosophy and individualized artistic approach to protecting, enhancing and restoring the appearance and health of the hair and scalp is what sets him apart from non-specialists and other practitioners. Currently located in Boca Raton, Florida, Dr. Bauman received his M.D. degree from New York Medical College and surgical residency training at Mt. Sinai Medical Center and Beth Israel Medical Center in New York. Dr. Bauman is one of only approximately 200 physicians worldwide to achieve certification from the esteemed American and International Board of Hair Restoration Surgery (ABHRS), be an accepted member of the International Alliance of Hair Restoration Surgeons (IAHRS) and also recommended by the American Hair Loss Association. Dr. Bauman has achieved the coveted Fellow status within the International Society of Hair Restoration Surgery (FISHRS) and is a frequently invited faculty member at numerous international scientific meetings, live surgery workshops and major beauty industry events. Dr. Bauman is the first-ever hair transplant surgeon to be formally accepted as an Intercoiffure Industry Partner. He is also an Advisory Board Member for the World Trichology Society and an active Trustee of the Greater Boca Raton Chamber of Commerce; he credits part of his early and ongoing success thanks to his involvement in local and national professional networks. He is also the author of numerous articles and textbook chapters on the science of hair care and hair transplantation, including eyelash transplant surgery, and has been extensively featured in the world's leading mass media as a medical expert and successful early-adopter and pioneer of some of the most advanced technologies in the effective treatment of hair loss. Dr. Bauman's international reputation and his exceptional team at Bauman Medical attracts patients from all corners of the globe for hair loss diagnosis and the latest and most effective hair restoration treatments and procedures. Dr. Bauman was voted "North America's #1 Top Hair Restoration Physician" by Aesthetic Everything and was recently named a Top 5 Transformative CEO in Forbes. His accessible and interactive presence on social media has garnered millions of video views on YouTube and thousands of subscribers, connections and followers on the most popular platforms. A recent Live Hair Transplant Surgery broadcast directly from the procedure room in his Boca Raton office gained over 100,000 simultaneous views from more than 20 countries. Dr. Bauman also has been a member of the highly respected Pantene Hair Research Institute, a global network of leading hair experts focused on the advancement of hair science, technologies and products. Personal appearances, interviews and profiles include the Today Show, The Early Show, Good Morning America, Extra, Access Hollywood, The Doctors and Dateline NBC among other TV appearances. Newspaper and Magazine articles and feature stories include The New York Times, Forbes, Newsweek, Cosmo, Elle, Vogue, Allure, O – The Oprah Magazine and Men's Health among others. In addition to serving as the CEO of Bauman Medical and teaching and consulting internationally, Dr. Bauman personally treats patients at his Bauman Medical Hair Transplant and Hair Loss Treatment Center in beautiful Boca Raton, Florida. For complete details visit https://www.baumanmedical.com
If you or someone you know has hair loss or eyebrow or eyelash concerns, click to start either a long-distance phone consultation OR an in-person, in-office consultation with Dr. Bauman. You can also Ask Dr. Bauman a Question or simply call Bauman Medical Group toll-free 844-GET-HAIR or +1-561-394-0024