HAIR RESTORATION OPTIONS

PROPECIA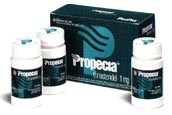 We prescribe Propecia in our practice because it is an excellent medical treatment for many men. It is safe, easy to take and effective—as so many of our patients' results have shown. Approved by the FDA in 1997, Propecia™ (
finasteride
1mg) is the first pill proven to treat genetic hair loss in the crown and mid-scalp area of men. In clinical trials, Propecia stopped hair loss in over 80% of cases and stimulated hair re-growth in over 66% of cases. It is a scientific and medical fact that Male Pattern hair loss is due to the effects of dihydrotestosterone (DHT) on genetically predisposed hair follicles. DHT causes increased hair shedding, gradual miniaturization or thinning of the hair, and eventual hair loss. Propecia works by inhibiting type 2, 5-alpha-reductase (the enzyme that produces DHT from testosterone). Therefore, by reducing DHT production, Propecia can prevent and eventually reverse the process of hair loss*. The published five-year data on Propecia indicates that hair counts increase during the first year, while hair mass and thickness increase for up to two years. At the end of the five-year study, patients taking Propecia had nearly 300 more hairs per area the size of a quarter than patients receiving the placebo.   At the end of 5 years on Propecia, men will have a 90% chance of looking the same or better*! Propecia has few side effects and those that occur are resolved by stopping the medication. One side effect, which statistically occurs in 2% of men, is a change in sexual desire or function. Propecia does not affect sperm function or fertility; and, the medication presents no risk to pregnant women through normal sexual relations. However, women of childbearing age should not take or handle the medication. As a 'direct dispensing physician' in Florida, Dr. Bauman offers convenient dispensing of Propecia and a Propecia AUTOSHIP program as a courtesy to his patients.   Pricing is competitive with traditional pharmacies and eliminates the need for calling for prescription refills or travelling to the pharmacy to fill the prescription. Dr. Bauman's CapilliCARE or Folliscope microscopes are used to track hair density and hair caliber in at least four areas of the scalp during each follow-up visit.   Standardized photos are also taken. This information is used to track the progression of male pattern hair loss and the response to Propecia (or other prescribed treatments).


TRACKING YOUR RESULTS… (new video)
It is a well-known fact that most people 'drop off' their hair restoration medications because hair loss (and hair regrowth) changes are subtle.   Tracking your results from a Propecia regimen (or other prescribed therapy) is critical.  However, because the 'results' of any hair restoration treatment or procedure happen slowly over time, specific exams and testing is needed.    Dr. Bauman uses a standardized set of photos to track scalp coverage, as well as the Folliscope (digital microscope) to look at hair density and caliber in several areas of the scalp.   These digital photos and density measurements become part of your medical record and can be compared with future measurements and photos months later.   Routine follow-ups are recommended at least twice a year to monitor hair growth and hair loss changes. While in Chicago, Dr. Bauman was interviewed by Sylvia Perez (ABC News) regarding hair restoration treatments and procedures, as well as the best way to track their results.   To watch the video 
CLICK HERE
.

READ MORE

ORDERING PROPECIA


Propecia is available only by prescription. For more information about whether or not this medication is right for you, call our office to schedule a consultation with Dr. Bauman: 1-877-BAUMAN-9, toll free or 561-394-0024 To send an email, 
click here


WOMEN AND PROPECIA
In the United States, Propecia (finasteride 1mg)  is approved only for the treatment of hair loss in men.  However, a recent Italian study suggested that finasteride 2.5mg may have a beneficial effect in women suffering from female pattern hair loss.   In the study, 37 women were treated with oral finasteride 2.5mg/day while taking an oral contraceptive.  At 12 months, 23 of the 37 patients (~62%) were rated as improved using photography.  Twelve patients had statistically-significant density increases.   Further studies are indicated. (Oral contraception was used because the use of finasteride (or propecia) in women of child-bearing age poses a theoretical risk to a developing male fetus.) The use of finasteride in female patients is considered 'off-label' in the U.S., however some hair restoration physicians (including Dr. Bauman) do prescribe it for select women. Read the 
abstract from Archives of Dermatology 
Genetic Hair Loss Testing (HairDX) which measures Androgen Sensitivity in women can be a strong indicator whether a postmenopausal women is likely to respond to Propecia/finasteride. Genetic Hair Loss Testing is available from Dr. Alan Bauman and Bauman Medical Group. It takes just a few minutes to perform a simple cheek-swab to be sent to the lab. Results are obtained within a few weeks.